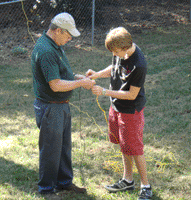 NFARL Elmers
(Ham speak for Mentors)
The term "Elmer" means someone who provides personal guidance and assistance to other hams.
Elmering or mentoring has long been the backbone of Amateur Radio. While technology constantly evolves, the human interaction between hams will not be replaced and will always remain one of the hobby's strongest traditions. As licensed hams we are all ambassadors of Amateur Radio and we should always be looking at ways in which we can welcome newly licensed hams and project a positive image that will attract others to ham radio.
NFARL is committed to helping the North Fulton Ham community improve their amateur radio skills, experience and fun! We have established a mentoring program that enables you to have access to the knowledge of an experienced ham. Our Elmers volunteer their time to help you become a better Ham.
Our goal is that every new newly licensed or upgraded NFARL Ham (at every level…Tech, General or Extra) has the opportunity to work with a personally dedicated Elmer. And further, we want to give every NFARL Ham access to a cadre of highly experienced individuals who can help on an "as needed" basis. So, if you are a new Ham or an old hand who needs help with a problem, the NFARL Elmer program is for you.
If you are newly licensed or have upgraded your license and would like one-on-one assistance from a NFARL Elmer, please send an e-mail to Elmers@nfarl.org.
Or, if you would like assistance in a particular area, please contact any of the Elmers on the NFARL Elmer list. If you don't find your particular area on this list, send and e-mail to Elmers@nfarl.org and we will get back to you right away.
Don't be shy — our Elmers are dedicated to helping your achieve the highest level of satisfaction and fun. So, send an e-mail or make a phone call today!!
TechNet
NFARL hosts a TECH NET each week on Monday night at 8:30PM local time on the 145.47 machine. The purpose of this net is to discuss all things technical that are related to ham radio. More ...
License Upgrade Help
NFARL members stand ready to help you meet your upgrade goals. We can meet with you to outline a plan of study, answer your questions, and get you ready for the test. Periodically NFARL sponsors Ham Cram events for both Technician and General class licenses. Check here for the latest Ham Cram information and schedule.
In the meantime, here are several on-line resources our members have found helpful:
Ham Test onLine provides very good on-line training for General and Extra upgrades. Check with Bill, K4YJI for more information.
Electronics + Radio Today includes topics such as basic electronics and radio concepts, basic components, simple electronics circuits, radio, ham radio, construction techniques and much more.
When you are ready, you can take the test at one of our club's testing sessions which occur monthly (click here to see our club activity schedule with the next test session). Or you can go to one of the testing sessions listed here.
Contact us and arrange for one of our Elmers/Mentors to get you on the way to a higher class ticket. In the meantime, check out one of our featured articles - Ten Ways to have the Most Fun in Ham Radio.
For helpful license info, check out this site. You'll also get lots of ideas from our Yahoo Group (there's a link in the menu bar to the left).
Antenna Installation
NFARL has many members who are willing to help you design, build and even install your antenna. We often have Antenna Build-a-Thons as part of our Mid-Month Madness activities. Again, contact us via the Contact page if you need help with your antenna challenges.
Equipment Loan Around
The club has a variety of equipment we can loan to you to get you on the air. This equipment belongs to members who have put it in a pool that can be borrowed for a week or a month or ??? But you have to ask! Contact John N4TOL at n4tol@nfarl.org to borrow equipment or to donate to the Loan Around Program.
Station Planning and Setup
Many hams do not know the steps involved in setting up a station, whether it's VHF or HF. Our members will help you with these decisions. What to buy, where to get it, what's a good price, etc. Let us know how we can help.
If you join our yahoo reflector/group (see button at left), you will often see equipment listed for sale. Always a good idea to buy from other club members.
AE4CW
Last updated August 15, 2014