Georgia QSO Party

2017 marks the 56th consecutive (nearly) year that the Georgia QSO Party (GQP) has been challenging amateurs all over the world with the best award/plaque program in the US. In 2015, 323 amateurs submitted logs vying for the thirty-nine award plaques that could be earned.
The GQP is held in a pair of ten-hour sessions on the second full weekend in April; this year that is April 8-9, 2017. All or nearly all 159 Georgia counties should be on the air.
The club's goal this year is to make the contest a success by having a high level of members participate in the contest, as well as representing the hams in the state of Georgia favorably to the amateur radio community throughout the U.S. and the DX world.
The most important goal for the weekend is to have FUN and operate in the contest at your station, or operate with others at a shared station. This is your chance to "be the DX." It is a real opportunity to practice "running," calling CQ and letting them come to you.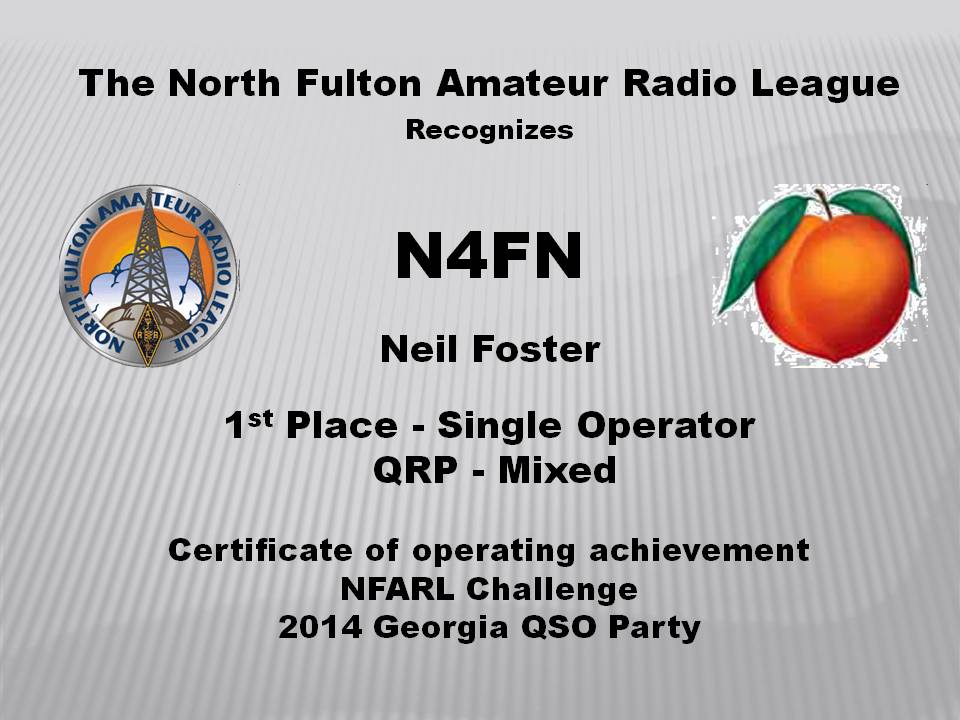 Last year, certificates were awarded to all club members for participation in the contest and special certificates awarded for key accomplishments in select categories. Be sure to play a part in this year's GQP and earn a NFARL award. More information will be posted on the club reflector as the contest approaches.
For contest details, please use the link below.
http://georgiaqsoparty.org/
Get on the List / Join the Party
The Georgia QSO Party begins in less than 30 days!!!
We would like to ask all NFARL members and friends, who will be operating in the Georgia QSO Party, to please submit your name and call sign to note your participation. This way we can track and listen for the familiar calls in the contest, and also for the NFARL awards program.
An updated list of players appears below based on responses received at the club meeting last month and recent e-mail responses.
There is still plenty of time to prepare your station and put together an operation plan to participate in the contest, whether it be for 1 hour or 20 hours.
Are you in the process of setting up a station for the contest or perhaps even putting a station on the air for the first time to get in on the GQP action? There are NFARL "Elmers" available to assist you to get your station on the air. Many contacts can be made with a simple wire antenna. The club also has some loaner radios available. Please contact me if you need assistance and our Elmers will try to help.
To be added to the NFARL QSO Party list, please e-mail your name and call to John N4TOL (n4tol@nfarl.org). Updates of the list will be posted as new names are submitted.
Initial list to date:
AB4TT, Steve Knittel - rover
AB4VT, Robert Coleman
AE4CW, Chuck Catledge
AC4PA, Paval Anni
HC5/WB4OZM, David Sturm
K4BB, Bob Beeman
K4UPI, Lori Young & K4RGK, Daryl Young - multi
K4YJJ, Bill Cobb
KK4FOF, Mark Schumann
KM4IGC, Anne Marie Francis & KW4WL , Lynn Francis
KM4IK, Ian Kahn
KS4KJ, Steve Mays
N1KDO, Jeff Otterson
N4FN, Neil Foster
N4TOL, John Tramontanis
W3WL, Wes Lamboley & K4SQC, John Kludt - multi
W4CCH, Chris Caldwell
W4JNM, Joel Myers
W4QO, Jim Stafford
W5JR, Mike Roden & WK4U, Tim Lemmon & N5ZZ, Max Faulkner - rovers
W8LLX, Stew Tarkington
NFARL Internal Results Submission Form
Club members, please submit results to John N4TOL at his club email address -- n4tol@nfarl.org -- on the Excel spreadsheet at the link below:
This summary spreadsheet is for internal club scorekeeping only -- results contained in it will not be sent to the GQP log manager. Submit your entire log in Cabrillo format to the Georgia QSO Party at logs@georgiaqsoparty.org.