13 Colonies Special Event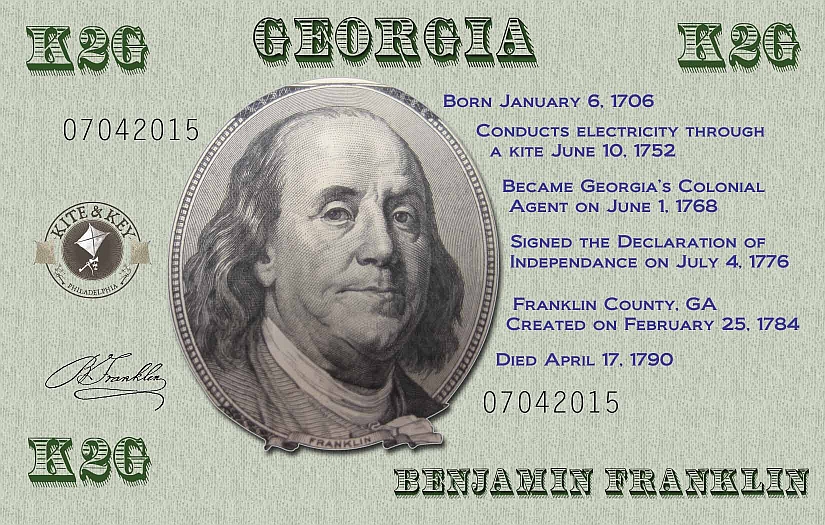 2015 Georgia QSL Card
The 2015 edition of the 13 Colonies Special Event starts June 30th at 9AM local time and runs thru midnite Sunday July 5th which is 0400z on the 6th. For more information, visit the Thirteen Colonies web site at www.13colonies.info.
Remember that everyone on the Georgia team will use the same callsign: K2G.
Players
This year's team representing Georgia includes 3 individual players and 17 players representing 2 clubs.
Competing as individuals

| | | |
| --- | --- | --- |
| W4QO Jim | w4qo@nfarl.org | QRP |
| N4PN Paul | n4pn@cox.net | |
| N4VDL David | david.probst@cox.net | |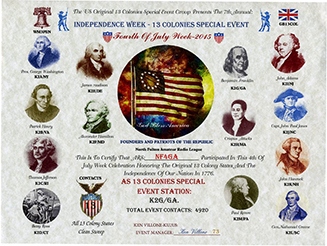 K2G/GA Team's Special Event Certificate
Competing with the NF4GA team (NFARL - nfarl.org)
| | | |
| --- | --- | --- |
| W6IZT Gregg | w6izt@arrl.net | NF4GA |
| W5JR Mike | w5jr@bellsouth.net | NF4GA |
| K4WSW Bill | k4wsw@nfarl.org | NF4GA |
| K4NHW Nathan | k4nhw@yahoo.com | NF4GA |
| K4VBM Bob | mbhh@bellsouth.net | NF4GA |
| N4FN Neil | archernf@earthlink.net | NF4GA |
| K4LJG Mike | k4ljg@nfarl.org | NF4GA |
| AE4CW Chuck | ae4cw@att.net | NF4GA |
| N4BFR Jim | n4bfr@me.com | NF4GA |
| N1KDO Jeff | otterson_nospam@nhrc.net | NF4GA |
| KM4IK Ian | km4ik.ian@gmail.com | NF4GA |
| KB4KBS Scott | kb4kbs@nfarl.org | NF4GA |
Competing with the W4GR team (GARS - w4gr.org)
| | | |
| --- | --- | --- |
| W4HNG Neal | howardgilchrist@bellsouth.net | W4GR |
| K4YDB Charles | charlie@harbinoaks.com | W4GR |
| AB4HF Jeff | ab4hf1@gmail.com | W4GR |
| WA4ZXV Norm | norman@schklar.com | W4GR |
| KW4AL Don | atlantacelt@gmail.com | W4GR |
If you have questions, contact Jim W4QO at w4qo@nfarl.org

North Fulton is the official QSL manager for Georgia. Please send an SASE with your request or $2 (or one IRC) for DX requests. See qrz.com for NF4GA address information, or use:
North Fulton Amateur Radio League
P. O. Box 1741
Historic Roswell, Georgia 30077